Pet Memorials UK is an online business which aims to provide customers with elegant yet affordable pet memorial stones; we understand that most of our customers that have had a pet passing will most likely had recent heavy vet charges that are why we try to make all our remembrance stones as affordable as possible.
A Rustic Stone Company
We have been operating for many years and since we are a part of the Rustic Stone Group you are in very good hands, Rustic Stone has over 11 years' experience trading online and has served over a whopping 5,000 customers.
Rustic Stone is a small local business located in Suffolk, While Rustic Stone has seen many competitors rise it has also seen many fail due to low quality of products or unrealistic prices.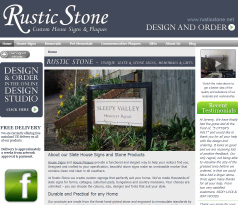 The Rustic Stone Group remains stronger than ever, selling House Signs Plaques, Memorials and even lovely engraved gifts for him or her all. Rest assure when you make a purchase from Pet Memorials or should you order anything from the official Rustic Stone website you will receive the highest quality of products and service, as well as competitive pricing.
About this Website Design
This website has been professionally designed by Simon Hayter who works for ByBe Web Design.
Why Us?
Want To Contact Us?
We have many ways you can contact us should you require any pre-sale help or even if you have a question regarding any of our products or company, please visit our contact us page